Our readers know that we're all about any tech developments in any field, and that includes household items like vacuum cleaners. We were hesitant when we received requests to do vacuum review but we cracked under pressure and here we are.
A few dozens of emails and hours of research later, here we are, in front of a blank sheet of "paper", looking to review a vacuum that's been the talk of the town – the Bissell CleanView OnePass (model number 9595a).
So, let's get to it.
One Pass Technology

The OnePass technology incorporates an innovative roller brush design. The brush housing has five settings ranging from hard floor to plush pile, to raise and lower the roller brush. OnePass technology combines powerful suction in combination with the roller brush to allow cleaning most debris with just one pass. Most vacuums in the market require going over an area many times before it is clean.
We look at the features of the Bissell 9595a and reviewed each of them lives up to expectations since it has already received so much praise users have in their reviews of the Bissell OnePass CleanVIew 9595a.
Features:
Powerful suction along with innovative brush design creates OnePass technology.
The multi-cyclonic suction system creates powerful suction that will hold power longer.
Easy to empty dirt cup with the bottom door opening, holding large capacity 0.6 gallons. An additional cleaning advantage is a twist out Multi-Cyclonic unit for access to trapped dirt around the head of the dirt cup.
Washable foam filter.
A good range of accessories for an upright.
A budget cleaner delivering good performance.
Suction Power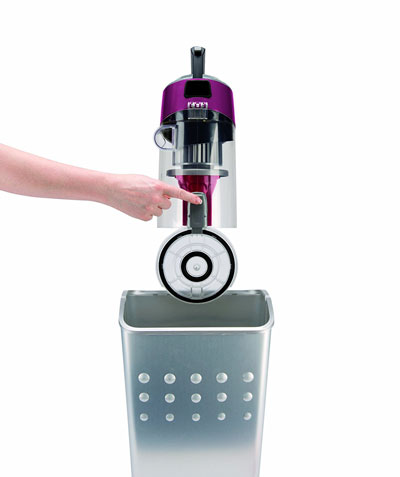 The Bissell 9595A uses a system of air power renowned for reliability.
Dirt builds up in your home: the mess you see, and the tiny particles invisible to our eyes. Such tiny particles can affect your health which is why a vacuum cleaner with good suction is a 'must have' when cleaning your home.
There are all sorts of situations that slow vacuum suction. It is important to have a cleaner that maintains suction for the entire time you spend cleaning. Dust bags nearing full, filters clogged, and bad design is all things to dramatically slow dust collection and waste your cleaning time, not to mention leaving your home dirty.
A problem solve by the cyclonic system technology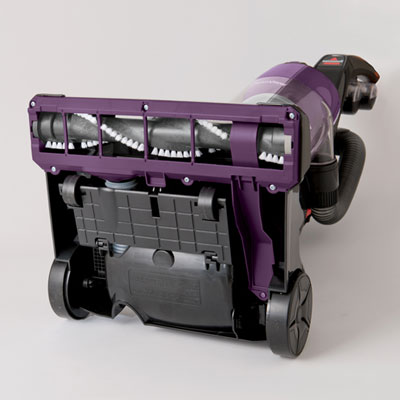 Before British engineer James Dyson invented a new way to utilize air power, a fan sucked air and blew it into a bag. The problem with this system was the air returning to the room was not entirely clean. The more the bag filled, the less the cleaner worked until it just wouldn't work at all.
The Cyclonic system sends air swirling in a cyclone to throw dust against the sides of the dust canister.  Air then goes through a tighter cyclone to get rid of smaller particles. It allows getting rid of the dust bag. Once the air passes through the filter, it goes back into the room as clean air.
The Bissell 9595a uses a Multi-Cyclonic system to give more power and consistent suction throughout the entire time spent cleaning.
Innovative Brush Design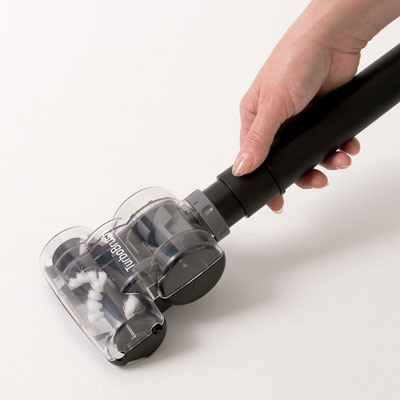 Most homes can be split into two areas two areas: one that gets used occasionally, and heavy traffic areas—the parts householders walk to an fro most often.
The "action" caused by walking on a carpet allows dirt to work down into the pile, and will eventually cause damage to the fibres. By vacuuming regularly you remove particles from the surface before it settles deep into the carpet.
The Bissell Dowel, Brush 13.5 inch, White and Red bristles are designed to deep clean carpet fibre. The opposing half-turn twists of the bristles in combination with alternating brush stiffness works as a separating/scooping action, while shorter brushes at each end clear side debris.
Reviewing the special Features of the Bissell 9595a OnePass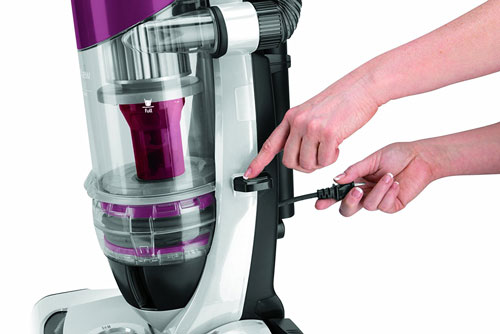 The five position adjustable height for the brush head gives the beater bar a range of performance over different surfaces. The open foot window allows a visual inspection of the roller bar to ensure it spins freely.
A TurboBrush tool attaches to the twist and snaps hose for cleaning stairs and upholstery.
An Extension wand for cleaning high-reach areas such as drapery and curtain pelmets.
Crevice tool for hard to get at corners.
Upholstery Brush with soft fibre for delicate fabrics.
Dimensions
Height, 44 inches
Width,  13.5 inches
Depth,  12.5 inches
Weight, 15.1 pounds
25 ft cord
2 year limited warranty
Pros
Excellent value for money.
High customer satisfaction shared in reviews of the Bissell 9595a
Good carpet cleaning ability comparable with more expensive models.
Handy accessories.
Does away with dust bags.
Cons
Motor run hot while using.
Can experience motor shaft and beater bar problems.
Does the not come with HEPA filter.
Roller brush cannot be stopped.
On/off switch is half-way down the side of the cleaner.
Summing it all up
There are many benefits of buying an upright vacuum cleaner: they are much cheaper when compared to the canister and other models. They are by far the most common design preferred by consumers.
Not surprisingly, uprights utilize the latest technologies to improve their performance. Radial root cyclone technology and wind tunnel technologies are some of the advanced developments applied to improve performance. The Bissell 9595a Vacuum with OnePass technology delivers impressive performance at a realistic price.