In the fierce marketplace we live in, providing a high quality customer support for businesses both big and small is essential. It is indeed the cornerstone of business success! Today's website visitors are also more internet and technical advanced than ever before, and prefer to have an assistance of an advanced customer support to get the answers they need in order to make viable decisions. In this case, Wix Answers help desk software is just the right solution for you.
In fact, a recent survey indicates that over 65 percent of respondents said that they prefer chatting live rather than speaking to a representative, and an astounding 90 percent said they prefer the DIY approach to get the answers they need. Wix Answers help desk software is your one stop solution to increase customer satisfaction, reduce costs, increase efficiency and build deeper connections between your company and customers!
Wix Answers is geared towards small to medium size businesses. Unlike some free and subscription based helpdesk software that do not offer value to the end user or are pricy to implement, Wix Answers is absolutely free to start using and has few new features usually not found in premium helpdesk solutions. So here are 5 great features of Wix Answers that you as a webmaster just can't ignore.
Integrated and Stunning Help Center
Building a help center with some helpdesk solutions can be a tricky affair, but Wix Answers allows you to get one up and running in just less than half an hour. It lets you choose the best template from a myriad template options, and customize it further to reflect your brand's mission.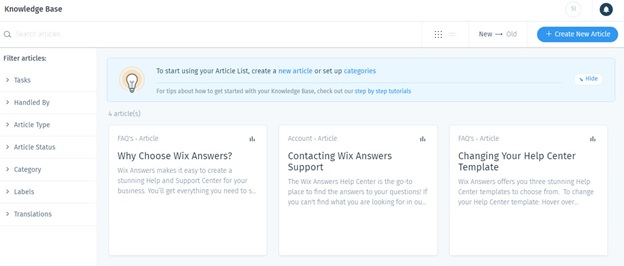 This help center module is unlike any other, but comes with an onsite knowledge base, where you can add important content related to your business such as articles and FAQ's. It features a drag and drop interface that makes it a joy to add content without any technical expertise or messing around with a bunch of code.
Multi-Channel Ticketing System
Where most other helpdesk solutions offer just a single mode of contact, Wix Answers features a multichannel ticketing system. This allows your customers to get in touch with you via email, phone or social media, and gives you the ability to field these queries directly from the intuitive interface.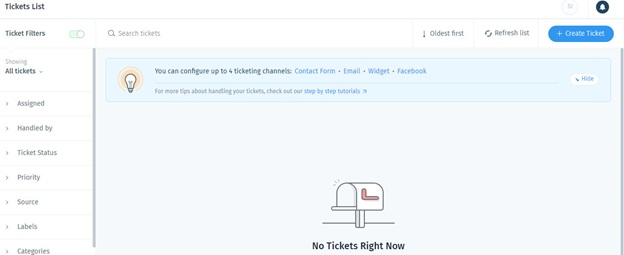 This type of ticketing system allows you to determine the exact platform these queries originated from and respond accordingly. You can even boost customer satisfaction levels by sending articles directly from your knowledge base, and adding custom fields to contact forms to gauge accurate customer information.
Embeddable Widgets

Customers want pertinent information and easy access to it, or else they will be knocking on your competitor's door. With Wix Answers, you can create widgets and embed them in any part of your website, and make it easier for your visitors to access articles, tutorials and FAQ's and even your ticketing system.
Actionable Insights
Rather than using third party software to get reports and insights in an effort to improve overall customer satisfaction, Wix Answers allows you to access this information right from its dashboard. It works in tandem with your knowledge base and ticketing system to provide you with customer satisfaction ratings, ticket response times and the ability to take a peek at your team's performance. Knowing your numbers can help considerably improve your business's performance and give you a distinct edge over your competition.
Integrated Call Center
Remember that there are still a small number of consumers who like to get information the old fashioned way i.e. by speaking to a real person. The call center feature of Wix Answers allows your customers to call you via a dedicated 1-800 toll free number. Again with this integrated feature, you do not have to resort to expensive third party solutions, but can answer customer calls in real time without breaking the bank.
Key Features of Wix Answers
Easy to create and manage help center
Multi-channel ticket system allows your customers to get in touch through email, phone or social media channels
Easy access to reports and insights
Easy to set up knowledge base via drag and drop interface
Widgets can be placed anywhere on your website
Getting started With Wix Answers is Easy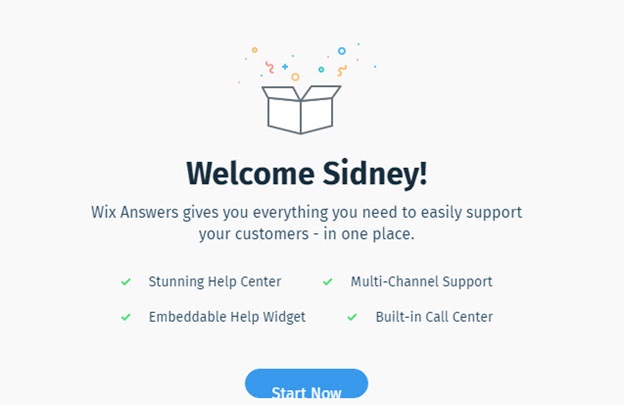 To get started with Wix Answers, you will need to create a new account or sign in to an existing one. After you sign up sucessfully, you will be be able to access all of the great features of Wix Answers.
You will then be greeted with a user friendly dashboard, from where you can explore all the great features of the Wix helpdesk.
The left hand menu can be expanded to setup widgets and change your settings among others.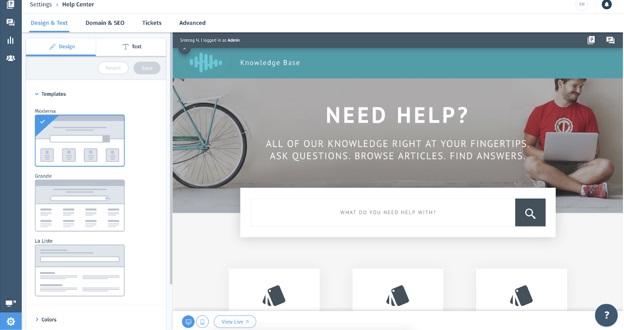 Bottom Line
The main goal of the best helpdesk software is to improve overall customer satisfaction, which is something Wix Answers does quite well. It comes with a wide range of features that not only allow you to address your customer's needs, but also keep track of your business performance right from an intuitive dashboard.
Additionally, Answers is easy to implement on your website and setting up the modules such as Knowledge Base and widgets can be done without any technical expertise and usually in just a few clicks.
If you're looking for a helpdesk solution that truly works miraculously to enhance your customer experience, look no further than Wix Answers!