Will Education Loan Help You Realize Your Dreams
January 19, 2020
0 Comments
5 minutes read
Among the many major priorities of an Indian family, funding their children's education is always found to be paramount. According to an HSBC global survey on education, about 49 per cent of Indian parents are working extra hours and taking a second job to pay for their children's university education.
As parents, Indians spend their entire lifetimes to accumulate enough wealth to fulfill their children's education goals. After all, as a growing economy, we are acutely aware of the fact that the right educational background can make all the difference when it comes to landing jobs and affording better lifestyles.
That is why you are certain to find Indian parents with a considerable savings fund dedicated to this sole purpose. However, when one factors for inflation, even our best efforts at savings can possibly fall short. According to recent studies, the overall cost of education in India is rising at about 10-15% per annum. This can place a great financial burden on Indian parents. Not only is the cost of education rising across primary and secondary education, but also for higher education courses.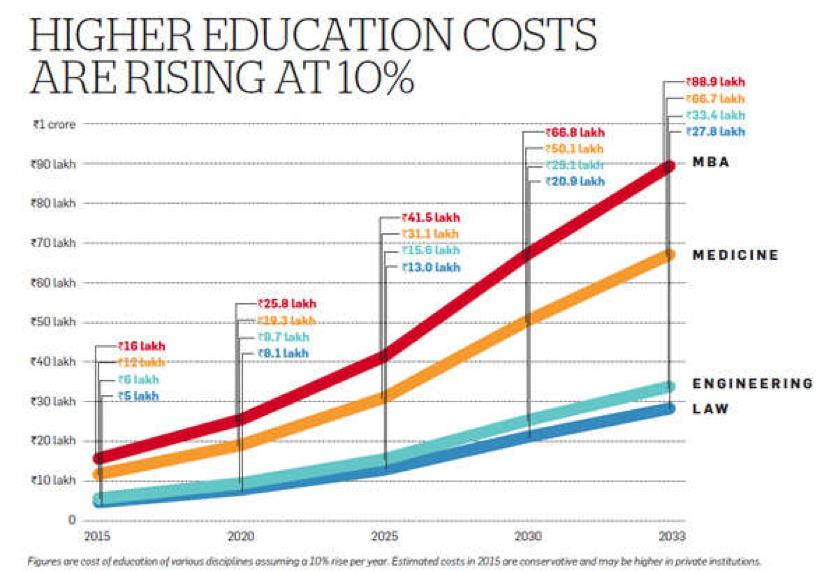 Source: Economic Times
Are Traditional Education Loans the Answer?
These statistics can be concerning for any parent who dreams to afford the best educational facilities for their children someday. That is why availing education loan, a loan dedicated to this purpose might be the best financial strategy for you to follow. In particular, you might be inclined to believe that availing a traditional education loan might be a good strategy.
However, while an education loan in itself is a good idea, there are various challenges that are presented by traditional education loans. Firstly, they come with a variety of education loan eligibility criteria that can seem quite difficult. For instance, if your loan amount exceeds Rs. 4 lakhs, you will be required to submit some form of security. This could be in the form of an asset you have to risk as collateral or arranging for a guarantor.
Another challenge with traditional education loans presents itself if your child wishes to study abroad. If the foreign university your child is admitted into is not well-known, you could be charged higher interest than others. As it is, the costs of studying abroad are skyrocketing with every year. With higher interest rates, a traditional education loan might not prove too useful and might end up being burdensome.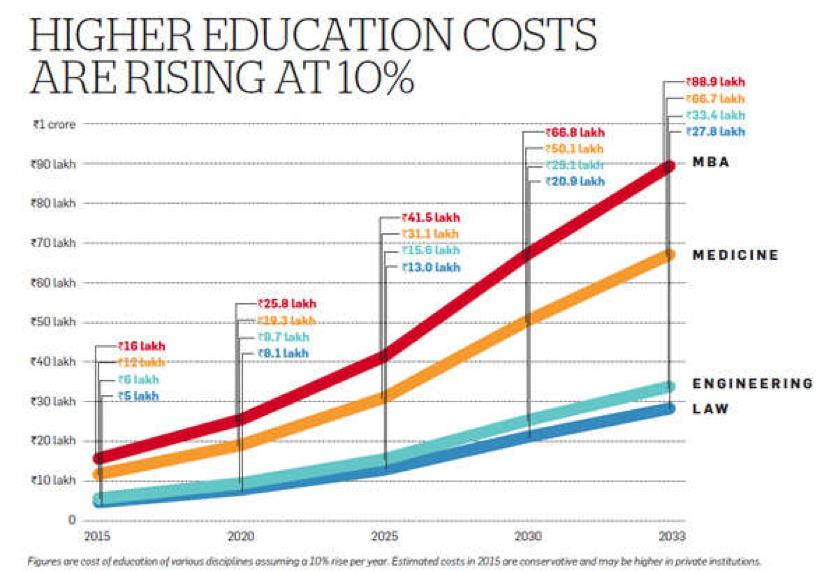 Source: Livemint
Personal Loan for Education – Realize your Education Dreams
While rising education costs and the challenges of traditional education loans might prove difficult, there is an option that can guarantee you the funds you require for your child's education. Personal loans, particularly those customized for education, are an excellent option to help out parents in need of securing educational funds.
All you need to secure these forms of education loans is to find a trusted lender, check for your education loan eligibility and submit the basic documents required for education loan. Once these processes are done, you can receive the funds you require in no time.
The key, of course, is to find a lender and loan you can trust. The personal loan at some finance company comes customized for your education needs and provides loan amounts of up to Rs 25 lakhs. So, you can easily dream big for your child's education and ensure that no university is out of reach for their goals.
Moreover, as a parent, you too can rest easy knowing that repayment of this education loan will never be a hassle. The Bajaj Finserv personal loan requires no collateral from your end and allows you to repay the loan in easy EMIs. You can select the tenure of your choice from 1 year to 5 years.
The education loan eligibility criteria for this loan are also fairly simple. You must be an Indian citizen between the ages of 23 and 58, and be employed by a public company, private company or a multinational company. Due to the convenience of the Finserv MARKETS platform, the required documents for education loan are also fairly basic and can be processed in no time.