To remain competitive, companies need to minimize operational costs, increase overall productivity and improve critical business processes. A BPM program provides a full array of tools to face these challenges
Ever-changing regulations, evolving technologies, unstable market situation, impatient customers, and fierce competition – all of these are the reasons why companies start implementing a BPM program – the software, which ensures sound management of critical business processes and marks the difference between a failure and success.
A BPM system is able to transform businesses by leveraging their existing strategies, knowledge, policies, and resources and developing a process-centric approach that will promote continuous performance improvement and help go ahead of the the market competitors.
The main benefits of BPM lie in its ability to assist companies with the following tasks:
Build reliable and dynamic business processes with a 360-degree visibility of key performance indicators,
Improve overall efficiency and productivity,
Enhance customer experience,
Minimize operational costs and time,
Eliminate human error and inefficiencies,
Gain full compliance with the regulatory demands.
Put it simply, a mission of a BPM program is to deliver desired business outcomes through the automation and as a result improvement of company-wide processes. A fine business process management platform provides a full spectrum of tools and preconfigured applications to facilitate organizations achieve their goals.
Components of a good BPM program
To be successful, companies need to have strong connections between their teams, corporate systems, and their customers. And BPM products are all about connectivity – they manage and improve these connections via a set of powerful tools such as:
Process engine
A fine BPM program like the bpm'online software available at https://www.bpmonline.com includes an engine that is aimed to manage an entire lifecycle of business processes and model the business goals via the description of the patterns that should be implemented to achieve these goals. Using an intuitive graphical designer, participants can model, simulate, execute, monitor, and improve routine workflows, assign and automate necessary manual activities and determine KPIs and SLAs within any step of a process.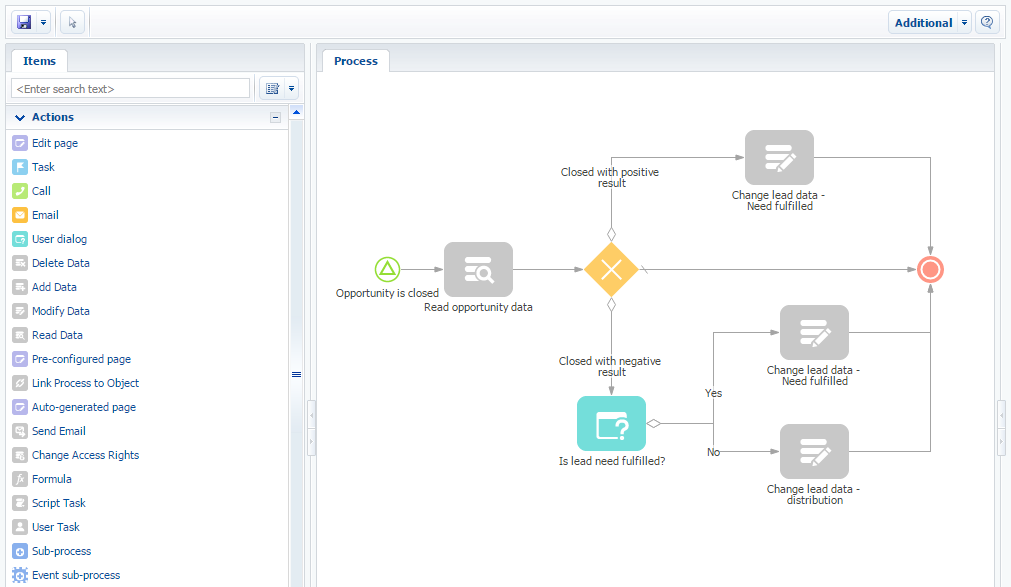 Knowledge management
Advanced BPM software tools encompass knowledge management features to aggregate information throughout a company. The most accurate, relevant, and complete data is the fundamental premise of smart decision making. The usage of comprehensive information in business processes drives better outcomes.
Bpm'online, the best BPM package pulls together all corporate data in a unified base that helps decision-makers stay better informed, so they could address any process-related issues. BPM knowledge management tools make it possible to:
Create any type of digital content
Categorize, store, and search any files and information blocks
Restrict an access to corporate documents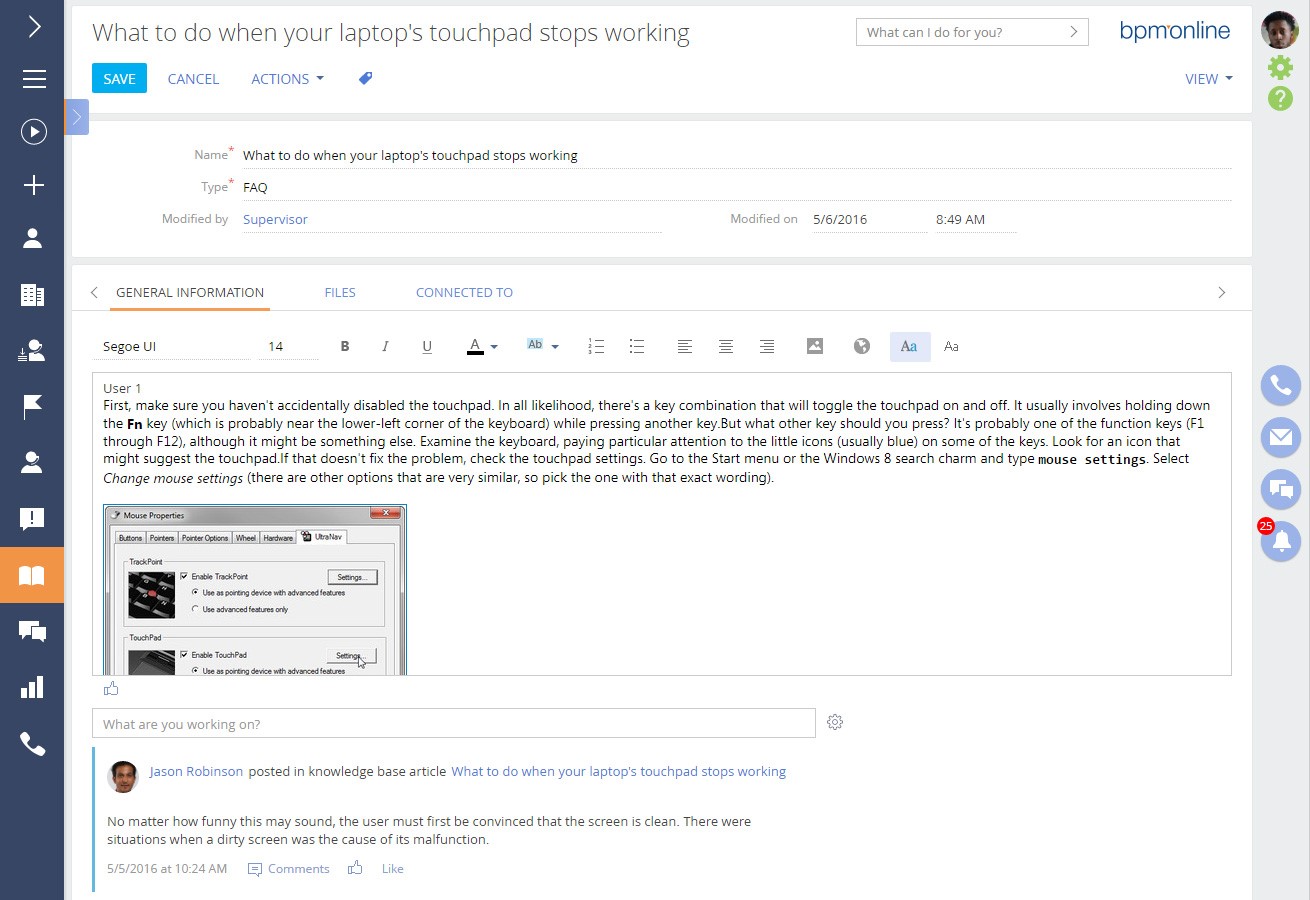 Rules Management
The rule engine embedded into a BPM suite is a fully configurable web-based application, allowing companies to easily determine, deploy, monitor, and modify business policies that control core business activities. The rules engine can define the business logic for complex operations by capturing process related information from legal regulations and corporate statements and extracting it from the knowledge repository any time a process map is being modeled.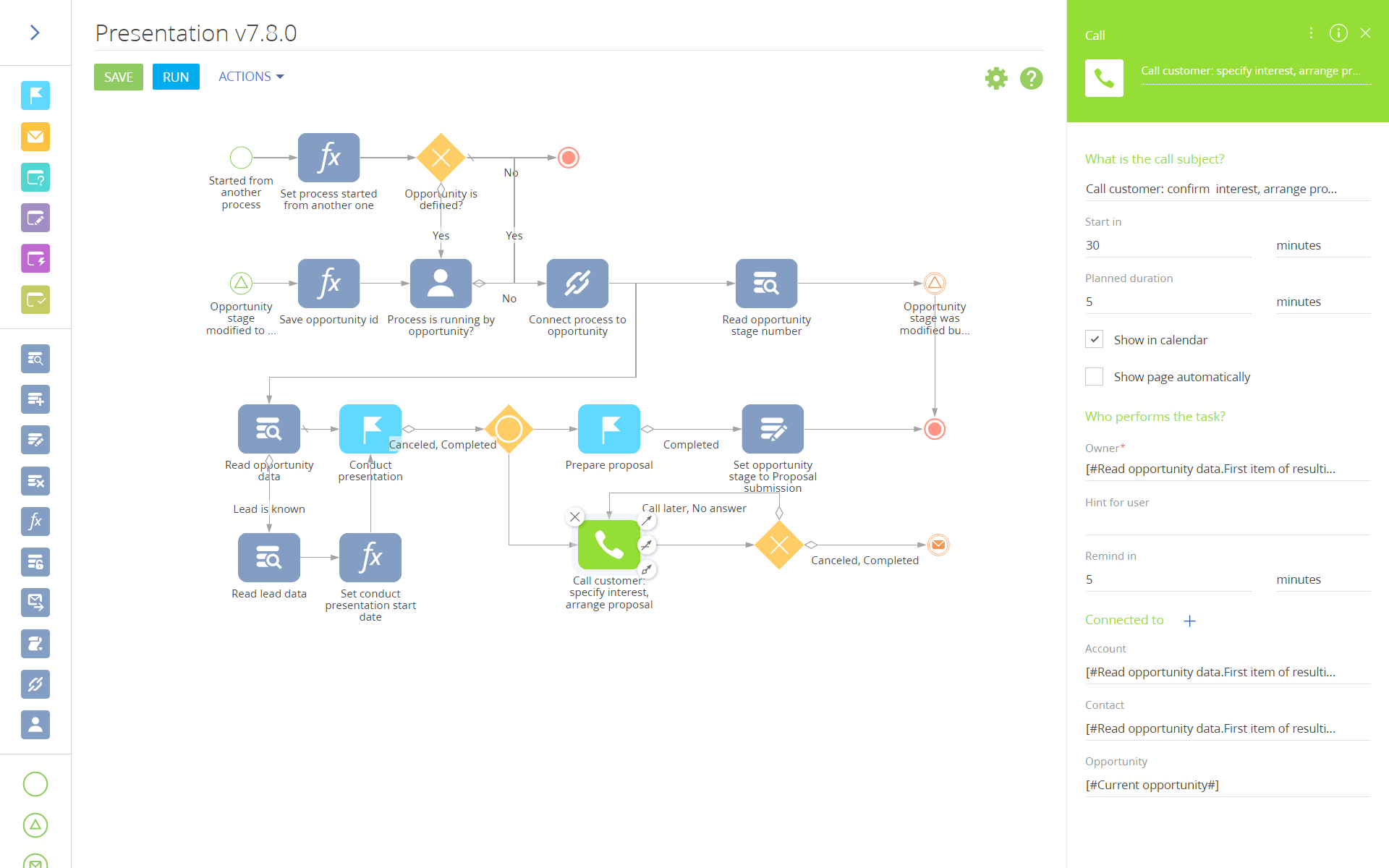 Reporting and monitoring
Intelligent BPM software solutions provide for the visualization of the tasks and the progress of the processes. BPM systems accumulate data for preparing reports from various workflow specific definitions including open form fields, human interactions, resources usage, etc. to present this information in scalable charts, graphs or dashboards. Real-time process monitoring reflects processes' efficiency, evaluates the performance of the process owner, analyzes customer satisfaction, and identifies the time taken to complete every step of the process. BPM analytical features empower the users to:
Remove loses in core business procedures,
Handle deviations and exceptions,
Predict business results,
Identify the most/the least efficient task performers,
Define and address emerging risks, remove bottlenecks, and inefficiencies,
Change assignments and update business rules on-the-fly to align processes with the customers' needs.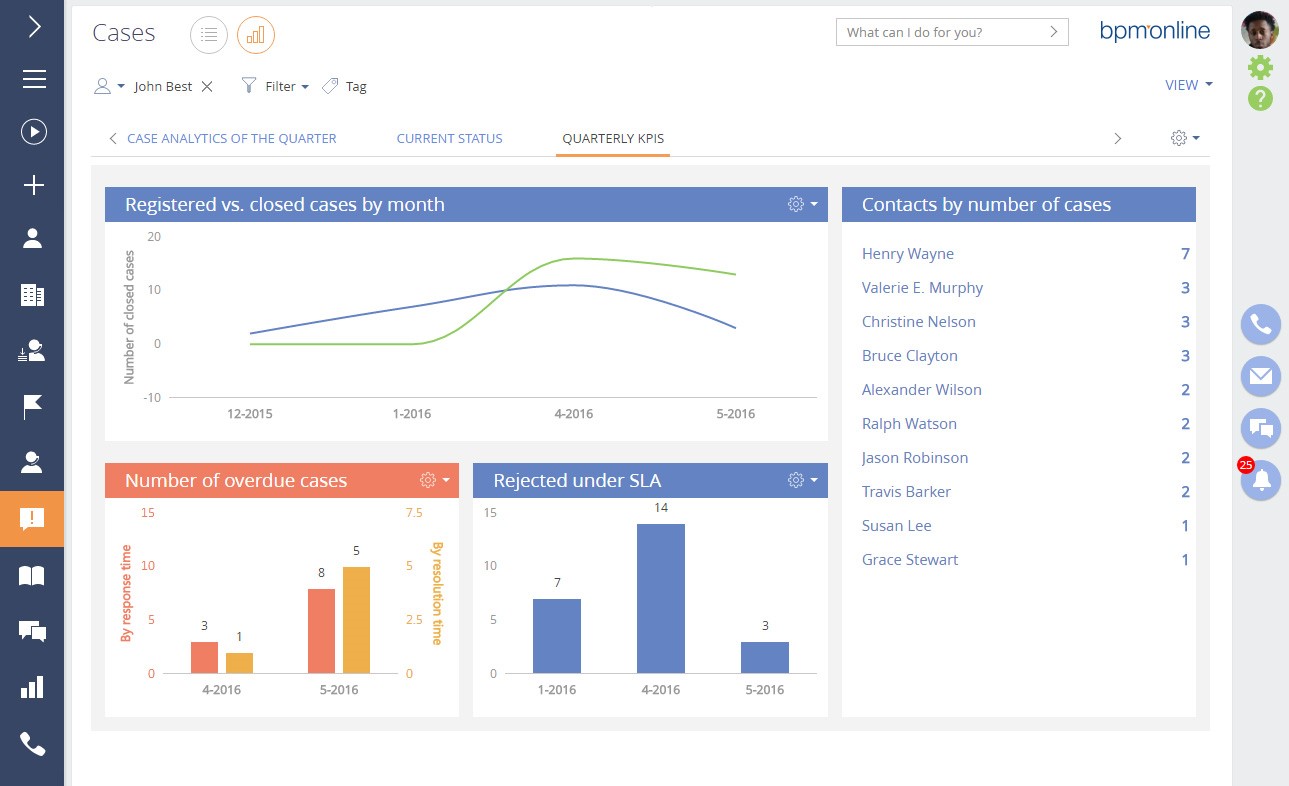 Project management
Business process management software is a single instrument that covers all business needs and allows employees work smarter and faster. A full-featured BPM program provides with successful project management and such features as:
Priority-based planning and scheduling
Resources allocation
Budget planning
Billing and quotes
Marketing management
Tasks delegation
Shared team calendar, alerts, and notifications
Team collaboration (file sharing, inbuilt messenger, task comments, traceable conversations, calls/video calls)
Document management
The importance of a modern BPM program
Both on-premise and online business process management solutions are used to ensure all aspects of organizational activities run optimally and effectively, making companies stay profitable and competitive. If properly implemented, an up-to-date BPM program helps enterprises to:
Maximize cost savings thanks to the enhanced social team collaboration;
Align projects within their budgets;
Serve customers' needs better by having a generalized depository where all the corporate data including customers' data is kept, analyzed, and leveraged;
Improve business transparency through rich analytics and real-time monitoring of the process examples;
Motivate employees and keep them satisfied by virtue of enhanced intercompany communication, increased job clarity, and effective project execution;
Boost productivity by eliminating manual tasks and automating repetitive tasks;
Drive continuous process improvement via proactively identified bottlenecks and gaps, and reports that are immediately obtained.
BPM programs are a critical success factor for enterprises as they provide a sophisticated set of digital tools to streamline mission-important flexible business processes, improve performance, and respond to the market trends and changes quicker than your rivals.