Not very long ago, men and women believed in necessity rather than luxury. The intricate designs and adornments came out only during festivals or special occasions that needed special attention to all things fine. Soon came an epoch of bling and spark, a perennial phase of festivities, full of vibrancy and grandeur. In this new age, came new designs, full of motifs and rich, bright colors. Taking a cue from this aeon, Hublot has come up with a fine line of flamboyance.
Forget the black and brown of old grim watches and pamper yourself with a little sheen and shine, all decked up, just for you. When it comes to joy in a dial and strap, these watches are a blessing in disguise. Conscious of the growing love for finesse, they have not only amalgamated rich with modern, but have blended fun with jazz. Just when you thought watches could not be more exciting, Hublot introduced a range of watches that would set a trend in the world of timepieces. You can check online for some of the most stunning Hublot watch collections at authentic retailers such as Ethos Watch Boutiques.
While intricacies of a watch can be overwhelming, Hublot has perfected the art of combining form with function, simplifying lives for us as much as possible. They make it look effortless. Not only do the watches look classy, they also add the much-needed gleam to a shimmering outfit.
They have defined the ethereality of a watch with sheer craftsmanship. If you like to experiment with different shades and patterns, this range offers a vast palette to satiate you. If you believe in quality and aesthetics, Hublot has made sure to not let you down.
1.Hublot Big Bang, MODEL: 361.SE.2010.RW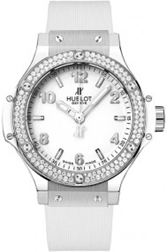 It not only gets boring to see black and brown straps around your wrist, but it also renders one's imagination plain. Needless to say, it is such a surprise to see this little beauty, not only looking queenly, but also fit for a queen. The diamonds on the outer frame of the watch adds to the extravagant look of the model, thus making your demeanor shine with sophistication!
2. Hublot Big Bang, MODEL: 361.PC.3380.RC.1104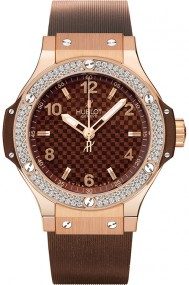 With a breath of fresh air, it is a pleasure to be introduced to this little specimen with golden rim and studded stones. The strap itself is a sight to behold. Custom-made to garner pleasure to the wearer, it can never let you down. Rose-gold in colour, it whispers grace, because excellence does not shout to be noticed.Let your wrist do all the talking after you strap on this glorious timepiece.
3. Hublot Classic Fusion, MODEL: 511.OX.7180.LR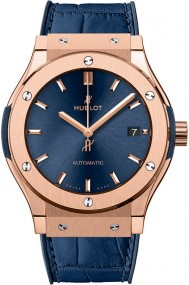 During any festive season there are people who strive for celebration in its subtlety. In this festival of watches, there are options for those who look for vibrancy in a collected form. With a regal Persian blue background, the Hublot Classic Fusion not only gives out an enigmatic aura, but also succeeds in winning the hearts of anyone who sets their eye on it. The fantastical blue, along with its rose-gold frame is enough to mesmerise people wherever this watch may be sighted.
4. Hublot King Power, MODEL: 701.OQ.0180.RX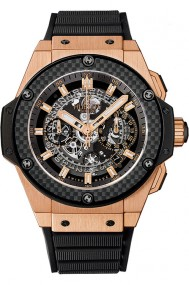 As the name suggests, this watch is made for kingsand individuals with kingly tastes and dispositions. Hublot King Power has a unique sporty exterior and a gold-rimmed interior that brings out an unusual combination of elements. This myriad of components not only provides a flavorsome amalgamationbut also is responsible for an interesting composition.
Take your time to explore these timeless pieces of elegance and sheer style as there is a lot more from where those came from. Watches by Hublot only get brighter and better!