The e-learning market is on a boom and is expected to touch $276 billion by the end of 2020. The interesting part of the stat is, anyone can become a part of this massive start of this industry. All you need is the willingness to start sharing your knowledge with others. You can become an entrepreneur simply by selling your knowledge online.
Become a Part of "Knowledge Commerce" – The New Industry for Knowledge Selling
In earlier days, the learning industry was limited to schools and teachers only but nowadays, engineers, doctors, IT professionals, dancers, painters etc. all can start selling their knowledge online. This trend of selling knowledge online has given rise to a new industry that is known by the name "Knowledge Commerce". You can easily become a part of this industry if you start charging from the customers for access to your knowledge.
How to Start Selling Your Course Online
It is extremely easy nowadays to create and sell online courses. Follow the below guidelines to get started:
1- Decide on the Course Topic
Always start with a micro-niche like if you are creating a course on SEO then start with "how to earn natural backlinks". Choose the number of sub-topics you wish to have on your course and then set a time interval for each of the topic. Start with a topic which you are extremely comfortable with.
2- Take the Help of Reddit and Quora to Find Questions That People Often Ask
Reddit and Quora are the best platforms where you can find questions related to the topic of your choice.
For example, a question like "how do I learn PHP" has 100+ answers and 70 people follow the question. This gives a clear idea that people are looking to learn PHP and you can easily start a course online that offers to learn PHP easily and has all the answers to the questions that people ask regularly.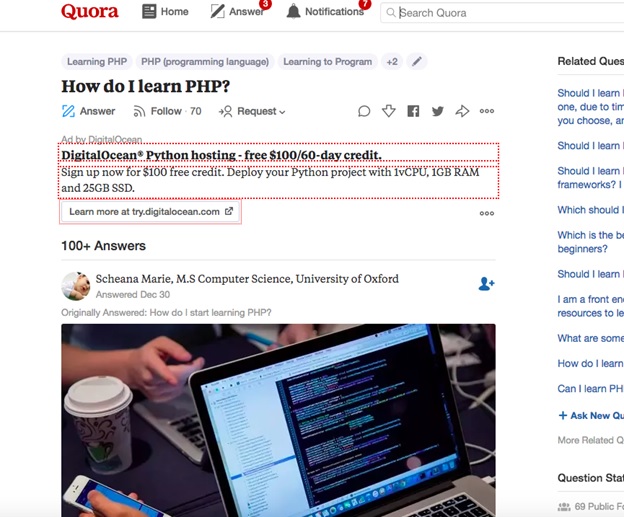 Similarly, you can search specific subreddits in order to gauge the popularity of your chosen topic.
3- Analyze Your Competitors
Once you have decided on the topic and have made an outline of your course, take time to analyze your competitors.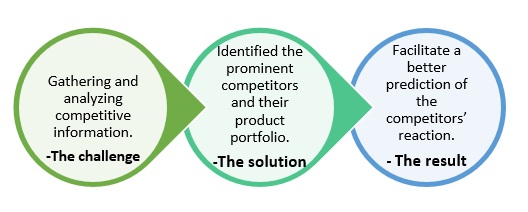 You should be able to answer the following questions:
What are the questions/topics that most of your competitors have in common?
What is the average duration of the course?
What is the average price of the course?
What are the Unique selling proposition (USP) that your competitors are offering?
Where is the course popular? How many people have bought the course and what is the geographic location of most of the buyers etc.
4- Determine Your USP
Once you have identified the USP of your competitors then it's time to decide on your course USP. Here is how you can calculate your own USP:
List down all the important and unique features that your course is offering.
Identify the emotional need that your course is satisfying.
List down the specific features your course offers that your competitors can't copy.
Create actionable, emotional, short and concise phrases that clearly explains your USP. Always remember that people don't want to wait so long to decide on the course so your proposal needs to be strong.
5- Prepare Compelling Content
Your course content is the main thing that you need to focus upon when creating your online course. Follow the below steps to prepare content that is easy to read and actionable:
Create interactive content in your courses. For example, you can ask users to complete checklists and worksheets.
Outline the objectives of your course clearly.
Use shorter paragraphs and short videos and divide the course content into smaller chunks.
Combine the power of audio, video and text to make it easier for your audiences to start learning.
Use storytelling to enable users to understand the concepts easily and clearly.
Take the help of analytics to understand which pages on your site receives the maximum time on page. You can use that data to prepare similar content.
6- Choose an Online Course Selling Platform
Once you have done all your homework on deciding your course topic and outline of your course and USP, you need to choose an online selling platform that will help you to easily create and promote your store online.
Kajabi is an awesome platform to create an online course. It also offers marketing automation to effectively start selling your online course.  Here are some of the top features offered by Kajabi:
You can easily create a marketplace where you can start all of your courses with just one click.
You can choose themes for your website that is responsive and mobile friendly. Moreover, you can add your own logo, images and colors to manage your brand presence.

It offers one login for all your customers to login to their account and start accessing their subscribed courses.
You can create as many static pages as you wish to. Moreover, all accounts come in with a built-in blog which you can use to generate additional traffic to your main site and convert cold prospects into fans.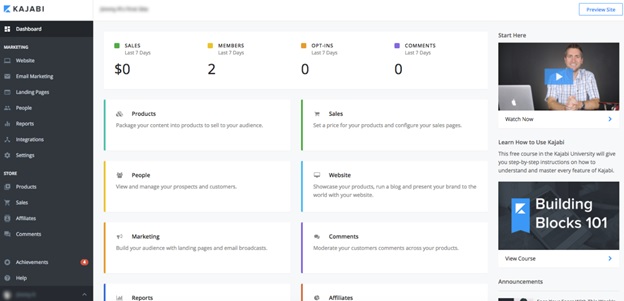 To start selling online courses, you need video hosting that is easy and affordable. Kajabi offers video hosting to upload your video content right into your Kajabi site. Your customers will be able to view videos on any devices at an amazing fast speed.
In the Kajabi dashboard, you can see a list of all people who have purchased your courses.
You can use pre-designed checkout forms to create conversion friendly checkout pages to generate more sales.
With the marketing automation feature provided by Kajabi, you can send automated emails to your prospects and use relationship building to engage your audience.
Last but not the least, start promoting your course with the help of effective strategies to promote your online courses. You can take the help of SEO, PPC, paid media, influencer marketing, content marketing, social media etc.
Conclusion
With blazing internet speeds and cheap video hosting, anyone can start creating videos and master the art of online course selling. Good luck on creating your first online course! Happy selling!